An abridged three part version of PO9 resident George Morralee's new autobiography
Catch up with part 1 at www.postcodepublications.com
Part 2: The story continues…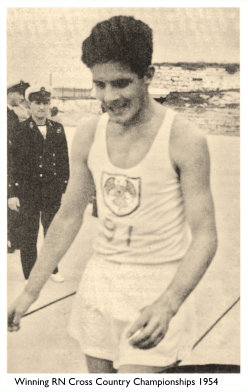 In January 1950 I joined HMS Agincourt, a Battle class destroyer of the Second World War, the real thing. Each time I joined a ship for the first time I would feel a bit queasy for three or four days. Anyway, after that I would settle down and be OK.
Our jobs including keeping watches, lifebuoy sentry duty on the quarter deck (in case anyone fell overboard), painting and cleaning and polishing all the brass-work.
One of the surprising things when we first went on board and went down to the crew's mess was to see sailors knitting and embroidering in their spare time. It is not over-stating the fact to say we made friends for life and there was a level of mutual trust that you don't often find in life.
It was while I was on HMS Agincourt that I set foot on foreign soil for the first time. This was to run up to the top of the 'Rock' - the 426 metre (1,398ft) high limestone pile that dominates the territory - and to run back down (there's a similar tradition in Hong Kong). I just sort of got on with it and was quite happy with the way they ran things.
It was around this time that I came to an important personal decision. Nevertheless my decision stood me in good stead in the years to come.
In February 1951 I found myself in HMS Vernon, another shore training station to which I was destined to return many times during my naval service. A month later, in December 1951, I was a member of ship's company of HMS Saintes, marching down Queens Street, Portsmouth.
The happiest time of my naval career was spent aboard this destroyer. All ships would enter the creek going astern - a rare manoeuvre and a real test of a commanding officer's skill.
During our time on Saintes we visited most of the major ports in the Med, which was great. As the country's new Queen, she immediately prepared to return home, travelling by air. At the time HMS Agincourt was alongside in Tobruk, Libya. We turned to follow the course and the captain put us on top of the wave where it was calmer.
Eventually we returned to Malta where we had a six-week refit.
I really enjoyed that time as part of the Navy's Mediterranean fleet. Yes, HMS Saintes was the ship for me.
Back home from Malta in May 1954 I once again went to HMS Vernon. I was already qualified in torpedo anti-submarine skills, now I hoped to be up-graded to Underwater Weapons Rating second-class, and after that, of course, there was first-class rating.
At the end of that year I joined the mine-layer HMS Plover as a leading seaman. And a consequence it had never been decommissioned and (after Nelson's 'Victory') must have been the longest-serving RN ship in commission.
Anyway we operated out of Portsmouth and played our part in naval exercises. Our job was to lay dummy mines for other ships to locate.
My next ship was HMS Urchin based in Northern Ireland and part of the Derry Squadron. From that I went to HMS Adamant, another submarine depot ship, but this time I was based in Wemyss Bay, at Rothsay in Scotland, where submarines would come alongside us to be re-supplied before going off down the Clyde.
I left HMS Adamant in 1957. My next ship was HMS Forth which was in Malta. But this time in Malta belongs in the next chapter, because that's where I spent a part of my early married life.
Towards the end of my career in the Navy, in 1961, I was promoted to Acting Petty Officer. Other important developments that year included the first manned space flight, the first betting shops, the Berlin Wall was erected and Britain applied to join the EEC.
At the time I was aboard the frigate HMS Loch Lomond patrolling the Persian Gulf. Life in the Gulf was certainly cheap in those days.
In 1962 I was back at HMS Vernon once again, this time to qualify as a first-class weapons rating. We then had the job of retrieving them.
Well, someone had to do it.
The full tally of ships I served on were: HMS Maidstone (1949), HMS Agincourt (1950), HMS Saintes (1951), HMS Plover (1954), HMS Urchin (1955 and 1963), HMS Adamant (1956), HMS Forth (1957), HMS Loch Lomond (1961), HMS Relentless (1963) and HMS Cleopatra (1968).
I first got married in 1956. And it was at one Nurses' Ball that I met Ann.
By the time I was sent off to Malta to join HMS Forth in 1957 Ann was expecting our first child, Susan. We lived on Malta for the next two-and-a half-years.
It was not the first time Ann had lived in service quarters abroad. Sadly Ann died on April 20, 2014.
When the divorce went through I was back at HMS Vernon again. I remained unattached for several years, and then I re-met Wendy and we married in 1996, long after I'd left the Navy.
We had been running into one another for quite a time as we were both involved in the church.
To be concluded