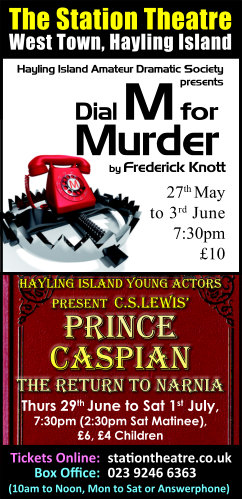 Written in 1952, it has been performed countless times, delighting audiences with its subtle turns of pace and carefully constructed characters.
Jealous tennis player Tony Wendice (Scott Hawley) hatches a plot to kill his lovely wife Sheila (Laura Duncan) after he discovers that she has been having an affair with Max Halliday (Philip Gyngell). He needs an alibi, and bribes an old school friend who goes by several names, but who we know as Captain Lesgate (Adrian Trew) to carry out the act.
The murder does not go according to plan, and Tony is forced to wriggle, lie and improvise his way around the investigating police. Things seem to be going his way until Inspector Hubbard (Dafydd Modig) puts his career on the line to bring Tony to justice, and save the suspect from being hanged unjustly. Tickets are available from the box office Monday to Saturday, 10am till noon, over the phone on 023 9246 6363, or online at www.stationtheatre.co.uk.