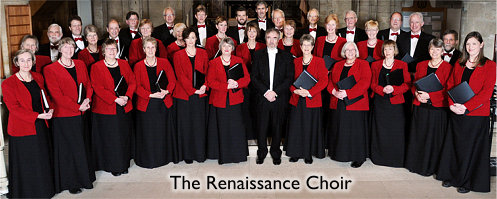 The Renaissance Choir, conducted by Peter Gambie, will be bringing a gorgeous programme of classical music to the Church of the Holy Spirit, Southsea PO4 0DH, on 16th July.
Members of the Choir voted which music they wanted to perform in this 40th anniversary concert. Besides performing Best of Byrd, vibrant Victoria, Macmillan's Miserere, they will perform a selection of gorgeous music from the Renaissance and modern times. The Choir will also perform a new commission to Hampshire-based composer Ian Schofield entitled "Stream of Life" containing poetry by Rabindranath Tagore.
The choir was honoured last year when it won Best Classical Music Act. Mentioned in the citation for the award was a performance by the choir when the spell-bound audience was captivated by the choir's sensuous sound and musicianship.
The choir has a considerable reputation, delighting audiences across Europe with the blend and beauty of its sound. Recent concert tours to Budapest (2006), Lisbon (2008), Krakow, Poland (2010), Santiago de Compostela, Spain (2014) and most recently in May this year to Rome have been highly successful.
The concert begins at 7.30pm, and tickets are £12 (concessions £10, students £2). These are available by phoning 023 9247 5259, on the door, or by through www.renaissancechoir.org.uk.