TV historian Saul David comes to The Spring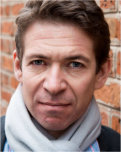 The Spring Arts and Heritage Centre is delighted to welcome Professor Saul David to speak about his latest book, Operation Thunderbolt.
It's now 40 years since the daring rescue of the hostages trapped on Air France flight 139, which was forced to land at Entebbe in Uganda – then under the dictatorship of Idi Amin. The Israeli military mounted a complex but ultimately successful operation to free the hostages, who numbered more than 100.
Saul David is a historian, broadcaster and critically-acclaimed writer. Born in Monmouth, he began his education at a tiny school where half of the pupils were his cousins. He traces the start of his love of history to a teacher at his second primary school, and then to sixth-form teaching at Ampleforth College. He began writing his first history book at the age of 25.
Saul recently presented World War Two: A Timewatch Guide for BBC2. He has presented and appeared in a number of BBC documentaries including Zulu: The True Story, Time Commanders, and The Greatest Knight. His other non-fiction books include The Indian Mutiny: 1857; Military Blunders: The How and Why of Military Failure; Zulu: The Heroism and Tragedy of the Zulu War and Victoria's Wars: The Rise of Empire. He has also written two historical novels.
Operation Thunderbolt was an Amazon History Book of the Year for 2105, and after his talk Saul will be signing copies of the book, which will also be available to purchase.
The talk will take place at The Spring Arts and Heritage Centre, on Thursday 22 September at 8pm. Tickets cost £16, or £14.40 for concessions. You can book in person at The Box Office, call 023 9247 2700, or visit our website at www.thespring.co.uk