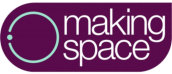 10-Week Jewellery courses.
On the week of the 16th January Making Space Craft Centre launches a brand new term of 10-week jewellery courses with local jewellers Sarah Macrae and Sharon Justice. The evening classes take place from 7-9pm on a Mon, Tuesday and Thursday evening. More details and online booking available at http://makingspace.org/courses/
Young Designers
Making Space have recently launched a brand new on going course called Young Designers. The course aimed for young people aged 11-16 looks at multiple cultural industries with Southsea designer Ami Lowman. A 4-week block starts on Tuesday 17 Jan from 5.30pm-7pm.
More details and online booking available at http://makingspace.org/courses/