Drama at the Station Theatre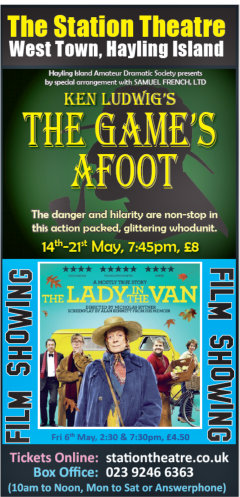 There are twists and turns at the Station Theatre in May when Hayling Island Amateur Dramatic Society presents Ken Ludwig's black comedy 'The Game's Afoot'.
It is December 1936 and Broadway star William Gillette, admired the world over for his leading role in the play Sherlock Holmes, has invited his fellow cast-members to his Connecticut castle for a weekend of revelry. But when one of the guests is stabbed to death, the festivities in this isolated house of tricks and mirrors quickly turn dangerous.
The danger and hilarity are non-stop in this action packed, glittering whodunnit. The play is performed from Saturday 14th to Saturday 21st May (except Sunday) at 7:45pm, and tickets are £8 available from the Box Office on 023 9246 6363 Monday to Saturday from 10.00am to noon or online at www.stationtheatre.co.uk.
In June Hayling Island Young Actors present David Barrett's adaptation of Peter Pan. The adventures of Peter Pan will take the audience to the magical island of Neverland, where they will meet the Lost Boys, Mermaids, Indians, Pirates and the ticking crocodile. Not to mention the 'baddest of baddies' Captain Hook and his cronies. This wonderful story will be a show for all the family to enjoy,
Performance are from Thursday 23rd to Saturday 25th June at 7:30pm with a matinee at 2:30pm on Saturday. Tickets are £5 for adults, £4 for children from the Box Office as above.