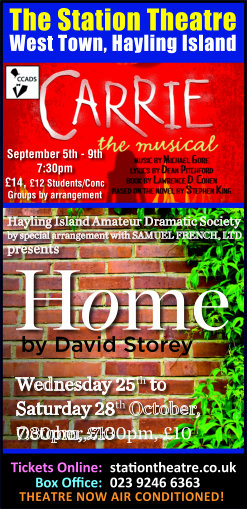 Hayling Island Amateur Dramatic Society presents 'Home' by David Storey. This very funny play is a warm and perceptive comedy, which premièred to great acclaim in 1970 with a cast led by Sir John Gielgud and Sir Ralph Richardson.
Two elderly gentlemen stroll on to an almost bare terrace and proceed to gently discuss various subjects - the past, school-days, climate, the sea, moustaches, the war, families, being English etc. They are joined by two characterful women of a different class and continue their discussions to include chairs, ill-fitting shoes, feet, relationships and the unusual situations they have found themselves in.
In this play laughter and common decency unites them and us in a common bond of humanity. We have all at some point felt lost, fragile and bereft of a sense of purpose and found our way through with the help of friendship and humour.
Tickets at £10 are available from the Station Theatre box office on 023 9246 6363 from 10.00 to noon Monday to Saturday or online at www.stationtheatre.co.uk