The club is held in a small venue which, while part of its charm means space is limited - so booking is strongly advised.
Hambledon Folk Club offers a friendly and intimate setting enjoyed by artists and audience alike: many performers comment on the warmth of their reception and a true folk club atmosphere. Nowadays the club features national and even international guest performers while invariably there is the traditional floor-spot session before the main act for local or visiting performers to each sing a song or play a tune or two. Editors/reviewers are welcome to visit us with free entry. We hope you are able to feature us in your programmes/listings.
Thank you for your support. Do come and visit our friendly club!
WEDNESDAY 13 SEPTEMBER - JIMMY ALDRIDGE & SID GOLDSMITH - (BOOKING ADVISED!)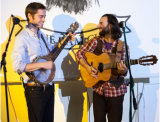 Superb singers and fine multi-instrumentalists, Jimmy Aldridge and Sid Goldsmith are a highly acclaimed folk duo who play traditional and original music of the British Isles. Over the last three years they have built a reputation on the UK folk scene for arresting and moving performances. The songs themselves are always given centre stage but brought to life with sensitive musical arrangements and stunning vocals. There is an integrity that shines through their performances and a common thread of political struggle, resistance, and justice. Their second album 'Night Hours' was released in December 2016 to great reviews across the board and has fast cemented their place of longevity within the folk scene. "To be a great folk singer, you have to be a great storyteller, as Jimmy Aldridge and Sid Goldsmith are clearly aware. The duo are both fine singers and multi-instrumentalists." (The Guardian) "Exhilaratingly diverse and full of impeccably crafted and beautifully realised songs" (Folk Radio) "Every now and then an act jumps out at you and knocks you back. You're in for a treat." (Mike Harding) http://www.jimmyandsidduo.com
WEDNESDAY 11 OCTOBER - DOVETAIL TRIO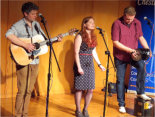 The Dovetail Trio is an invigorating new grouping of three proven talents: Matt Quinn (Newcastle Folk Degree alumnus); Rosie Hood (engaging Wiltshire singer and Fred Jordan Memorial Award winner) and Jamie Roberts (of multiple-award-winning duo Gilmore & Roberts and BBC2 Folk Radio award nominee). With a bold and fresh approach to interpretation of traditional material, mingled with some contemporary influences, the Dovetail Trio explores familiar narratives and modern themes with infectious energy and a passion for musical heritage. Their introductory album "Wing of Evening" perfectly illustrates their talents featuring several unusual versions of traditional English songs alongside an American folk story, a traditional Scottish whaling song, and even a French/Canadian tune set. Tight vocal harmonies and skilled musicianship make this an exciting début album. "Delicious three-part harmonies…engaging and playful charm…the start of something good!" (Allan Wilkinson, Northern Sky magazine), "A real treat – 'folk as she is sung!'" (Tim Carroll, FolkWords), "Up there with the best…frighteningly accomplished musicians!" (Rob Fearnley, Bright Young Folk). http://www.dovetailtrio.com
WEDNESDAY 8 NOVEMBER - DAOIRI FARRELL


Dublin-born Daoiri (pronounced Derry) Farrell has been taking the folk world by storm with his authentic interpretations of Irish song. This exceptional singer and bouzouki player was a double winner at the BBC Radio 2 Folk Awards this year. He scooped the prize for best traditional track as well as the Horizon award for best emerging artist on the folk scene. We're very excited to be hosting him in Hambledon and an evening of good "craic" is assured. And as well as being a fine entertainer, Daoiri knows his stuff – he has several qualifications to his name having pursued academic studies in traditional Irish music, music performance and applied music. "One of the most important traditional singers to emerge in the last decade" (Donal Lunny). "Always a treat to hear him sing" (Christy Moore). www.daoiri.com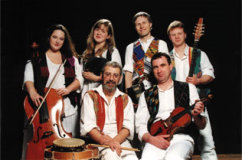 WEDNESDAY 13 DECEMBER – MAGPIE LANE – Christmas seasonal event – book early! Magpie Lane is a five-piece folk band from Oxford, specialising in traditional English songs and tunes. They combine powerful vocals with vigorous tunes, performing a wide selection of Christmas carols, wassails and dance tunes, many of them quite unusual.
Between them the band plays concertina, melodeon, bouzouki, cello, fiddle and guitar and all of them sing; when they burst into five part harmony it is a joy to hear. These veterans of traditional English folk music are perfect for our Christmas session – and there'll be a cup of mulled cider and mince pie for everyone. "Every time Magpie Lane appear at Ringwood Folk club we are near to capacity, with plenty of great singing. It's really good to hear proper Southern English Traditional music played so well." (Rod Biggs, Ringwood Folk Club).