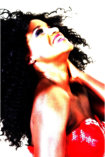 A local Diana Ross and Motown tribute singer, whose family has a history of Diabetes, is to donate an evening to Hampshire headquartered charity Diabetes Research & Wellness Foundation (DRWF) in a spectacular fund-raising dinner to be hosted at Tiger Tiger, Gunwharf Quay, on Friday 17 March. The Diabetes Research and Wellness Foundation provide valuable information and support to help these people self-manage their condition and are instrumental in funding much-needed research into Diabetes, both in the UK and around the world," explained Gloria.
"The evening is also sponsored by Tiger Tiger with a free prosecco reception to kick start the evening. We are very grateful to Gloria and Tiger Tiger for making the evening possible and ensuring the majority of the ticket price will go to the charity."
The DRWF charity is based on Hayling Island and works across the UK providing information and support to help people to self-manage their condition, including the ever popular annual Diabetes Wellness Day this year on July 22nd at The Solent Hotel, Whiteley.