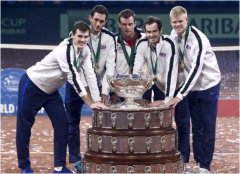 The Davis Cup is coming to The Avenue
Last year Great Britain won the Davis Cup for the first time since 1936. The Avenue Lawn Tennis, Squash and Fitness Club will be displaying the cup on 21st July in its club house in Southleigh Road, Havant. This is the first opportunity to view the Cup in the South of England. The cup will be on display as part of our County Week Tournament, part of the Aegon Summer County Cup competition, between East of Scotland, Hertfordshire, Middlesex, Cheshire, Yorkshire and Berkshire.
Viewing is free and refreshments will be available all day.