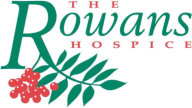 As the end of the year approaches, it is time to start thinking about how you are going to challenge yourself for 2016! Could you Abseil down the Spinnaker Tower or Skydive from a plane 2.5 miles above Salisbury Plain?
Perhaps you want to set a personal best in a running event or dance the night away with your friends and raise money at the same time. Whatever your challenge, please consider raising money for The Rowans Hospice as part of your goal.
Why not encourage your friends, family or colleagues to challenge themselves alongside you so that you can support each other along the way?
Here are a few events that we are holding in 2016 that you might want to take part in:
Trek 2016 – A Walk of Reflection from Santiago de Compostela to Firesterre - October 2016: Experience peace, tranquillity and spectacular views while taking part in a walk that millions have taken before you.
Ruby Red Day is back! - Friday 12th February: We would like you to wear something Ruby Red to raise money for The Rowans Hospice. Why not encourage your friends, colleagues, students and families to join in as well? You can wear red slippers, shoes, socks, boots, wellies, tie, skirt, cardigan, shirt, trousers, blouse, onesie or even a ball gown - in fact, anything RED! Donate £2 to wear it RED! All proceeds will go to The Rowans Hospice
Dance-a-thon at Portsmouth Guildhall - Saturday 20th February 6pm – midnight: Get ready to strut your stuff on the dance floor, bust some moves and boogie the night away with our fabulous Dance-a-thon event! The Dance-a-thon is a challenge exercise event. We encourage you to wear dance shoes, trainers or any other footwear you'll be comfy in all night. The colour scheme for the Dance-a-thon is PURPLE & PINK! Whilst the colour scheme is not compulsory, it would be great if you could wear something purple or pink – a t-shirt, leg warmers or even a tutu! The Rowans Hospice Dance-a-thon is a sponsored charity dance event. By taking part, you pledge to raise as much sponsorship as possible - the suggested target is £100.
Race with Rowan - Sunday 28th February: The Rowans Hospice will be hosting 'Race with Rowan' for a third year! A sponsored run with a choice of two distances: 10k or 5k, with both starting and finishing at the Portsmouth Watersports Centre on the Eastern Road. The 10k race will start at 10am and the 5k Fun Run will start at 10.15am. Registration for the 10k is £15 for non-affiliated runners and £13 for affiliated runners. Registration for the 5k is £10 for adults and £5 for children.
If you don't feel able to challenge yourself this year but would like to volunteer to help at one of our events, please contact fundraising@rowanshospice.co.uk
We could not hold our events without the help and support of volunteers – their support is priceless.
However you choose to support us, we hope to see you soon!
For all of our latest events, more information or to register to take part in an event, visit www.rowanshospice.co.uk or call the Fundraising Team on 023 9223 7142.