for to those who fought and those who died at Jutland will be held at St James Church, Emsworth at 11am on the battle's 100th anniversary - Tuesday 31st May . All are very welcome.
A hundred years ago, on 31 May/1 June 1916, the Grand Fleet of the Royal Navy and the German High Seas Fleet clashed in the North Sea. Within the space of twelve hours, 250 warships fought the biggest naval battle in history.
The Royal Navy lost three battlecruisers and three armoured cruisers as well as eight destroyers. The German fleet lost a total of eleven ships. A total of 9823 men were lost.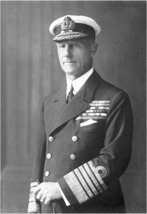 Admiral of the Fleet Sir John Rushworth Jellicoe, 1st Earl Jellicoe. Commander of the Grand Fleet at the Battle of Jutland.