Monday 9th November - 1900 for 1930 hrs - 'The Blenheim – Now Flying Again' with John (Smudge) Smith
This fascinating talk describes the two restorations of the Bristol Blenheim MKIVs to flight at Duxford, some of the history and operations of the aircraft and the two accidents that befell the restored aircraft and the subsequent repair and conversion to Blenheim MKI status which flew in November 2014 and is currently on the air show circuit.
Monday 23rd November - 1900 for 1930 hrs
'15 years, a pause and a review of my aviation career!' by Justyn Gorman Justyn Gorman is a professional display pilot and specialises in high performance gyroscopic unlimited aerobatic displays for air shows and special events in the Extra 300.
The talk will be an interesting snapshot and review of his many different experiences in aviation to date, and perhaps an eye towards the future.
Air ACES is an aviation talk society, providing its members with regular talks, given by experts in many different fields related to the world of aviation. These talks cover subjects such as test flying, piloting iconic aircraft, RAF, aviation industry, air displays and many other related topics.
For the start of Christmas, Air ACES welcomes all of its members and guests, enjoy two brilliant, light hearted talks, with free coffee & mince pies.
Monday 7th December - 1900 for 1930 hrs - Two light hearted and entertaining talks.
'Petticoat Pilot' a talk by Ann Chance, and 'Air Shows and their Aircraft – to Music' by Cliff Carter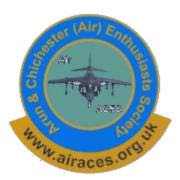 In the first half, Ann Chance will talk about her life as a petticoat Pilot. Having undertaken a parachute jump as 'Wonder Woman', Ann decided that she would rather be in an aircraft, than dropping from the sky, so she learnt to fly – at the grand old age of 54. She learnt at Biggin Hill, and after two years of intensive training, she gained her Private Pilot's Licence in 1993. Since then she has flown many times, and will expand on the privileges that she has had.
For the second part of the evening, Cliff Carter will give an audio visual presentation, about various Airshows that he has visited and many of the aircraft that he has seen. This array of photographs will be accompanied by appropriate music, which will add to the evening's atmosphere. The mixture of flying, static & panoramic photographs, from film & digital cameras, will include photos from Airshows at Bristol, Dunsfold, Duxford, Eastbourne, Shoreham, Shuttleworth, and even a few from Wanaka, New Zealand.
Both presentations will be interesting, with plenty of fabulous pictures - a talk for everyone, not just those interested in aviation!
The talks are held at the Chichester Park Hotel, Westhampnett Road, Chichester, 7.00 for 7.30 pm. Visitors are welcome, admission for non-members £5 and under 16s FREE.
For further information about Air ACES, please see www.airaces.org.uk - or call David Batcock on 01243 823007