Monday 25th September - 1900 for 1930 hrs - 'The Role of a Rolls Royce Test Pilot' – Phill O'Dell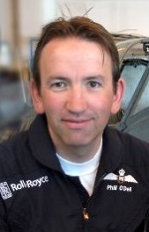 Phill O'Dell is the Chief Test Pilot for Rolls-Royce plc. He has flown a wide variety of aircraft varying from the Rolls-Royce MK XIX Spitfire, via the Airbus A380, and the Boeing 787 through to the iconic Vulcan, XH 558.
Before joining Rolls-Royce, Phill was Officer Commanding the Research and Development Flight of the Fast Jet Test Squadron at Boscombe Down in Wiltshire. He joined Rolls-Royce plc having completed 18 years in the Royal Air Force. During his time with the RAF he flew the Buccaneer, was both a weapons and flying instructor on the Hawk and flew operational sorties over Northern Iraq and Bosnia with the Jaguar. Whilst serving with the RAF, he attended the French Test Pilot School at Istres in Provence and flew over 25 aircraft from the F-14 Tomcat to the Airbus A320.
Since joining Rolls-Royce, Phill has contributed to a number of major engine development programmes, for the Hawk, the Airbus A380 and the 787 Dreamliner. To help his role for Rolls-Royce, he flew both the Airbus A320 family and the Boeing 777 with British Airways.
Phill also leads the Rolls-Royce Heritage Flight's Spitfire operation and flies and instructs on Spitfire, Harvard and Chipmunk, all at Goodwood.
Monday 9th October - 1900 for 1930 hrs 'The Royal Naval Historic Flight' – Lt Cmdr Chris Gotke
Former Sea Harrier pilot, Lt Cmdr Chris Gotke, became Commanding Officer of the Royal Naval Historic Flight in 2013. He saw service in Iraq and Kosova and now, as part of his role with RNHF, flies all their aircraft including Swordfish, Sea Fury and Sea Hawk as well as a Sea Vixen owned by RN Aviation Ltd. In this fascinating talk he will explain the history and different aspects of the Historic Flight, training and flying of vintage aircraft as well as its unique and historically significant aircraft.
Monday 23rd October - 1900 for 1930 hrs
'I (should have) learned about flying from that' – Air Marshal Sir Dusty Miller KBE, CBE
(Or, if it looks easy and there is a flying officer involved, it is likely to be very dangerous)
In 1973, when there were a number of RAF display teams as well as the Red Arrows, Flying Officer Dusty Miller, 21 and just one year into his first flying tour, was selected as the wingman or No 2 of the aerobatic display team based at RAF Leeming, the Gemini Pair. Substituting boundless raw enthusiasm for his lack of experience, Miller 'hung in there' (or not) for an exhilarating season of display synchronised aerobatics at 44 locations across the UK and Europe.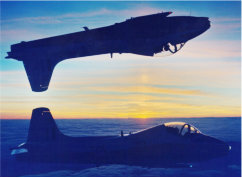 He will set the scene by starting with his early career as one of 'Trenchard's Brats', then move quickly through his flying and instructor training, finally dwelling at length on the thrills and (very nearly) spills of the pre-season work up and the 1973 display season.
AirACES is an aviation talk society, providing its members with regular talks, given by experts in many different fields related to the world of aviation.
The talks are held at the Chichester Park Hotel, Westhampnett Road, Chichester, 7.00 for 7.30 pm. Tickets available on the door. Admission for members is £3, non-members £5 and under 16s FREE.
For further information about AirACES, please see www.airaces.org.uk or call David Batcock on 01243 823007