Arun & Chichester (Air) Enthusiasts Society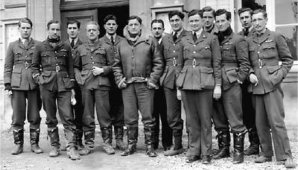 Monday 22nd May -1900 for 1930 hrs
'Bull' Halahan and the fighter tactics he pioneered - Philip MacDougall will tell the remarkable story of Sqn Ldr P H 'Bull' Halahan.
'Bull' was the Commanding Officer of No.1 Squadron, flying Hurricanes during the Battle of France (Sept. 1939 to May 1940). He and the pilots of that squadron found themselves on a steep learning curve, soon realising that the tactics of air fighting that they had been trained in, were totally inadequate and had to be totally revised.
In developing new tactics, some of them similar to those already devised by the Luftwaffe in Spain, Halahan's squadron was demonstrating a proficiency unmatched by any other RAF Squadron.
On returning to Britain after the evacuation of Dunkirk, other RAF squadrons in the Battle of Britain were encouraged to use similar tactics those No 1 squadron had used in France.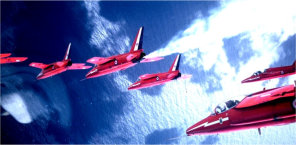 Monday 5th June - 1900 for 1930 hrs
'From 1st Loop to Red Arrows' – Chris Roberts
Former Red Arrows pilot Chris Roberts talk about how he came to join the team as well as giving a brief history of RAF display flying from the first ever loop in 1913, just a few years after the Wright brothers made their first flight. Initial RAF public displays began with the Hendon Aerial Pageants and aerobatic teams became a major draw for the public; over the years many teams flying many different types of aircraft paved the way to the formation of the Red Arrows in 1965. The talk includes an insight into the pure flying aspects of formation aerobatics, plus, of course, a few anecdotes along the way.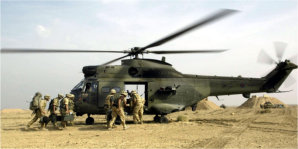 Monday 26th June - 1900 for 1930 hrs
'Puma Helicopter Operations in Afganistan, in the aftermath of Operation Herrick' – Sqn Ldr J M Hamilton - RAF Benson
Sqn Ldr James Hamilton will outline the Operations in Afghanistan - which have changed significantly since the end of Operation Herrick. The speed of economic recovery and the advancement of social reform has never been faster, however the threat from insurgency remains. Afghanistan resides at a tipping point between measurable development versus a slow decline to a failed state.
This presentation will look at Afghanistan from a personal view point, using the experience of one Puma Helicopter Commander who returned from Kabul recently. It will explore the development of the Puma and the recent upgrade to the Puma Mk. 2, and what that actually means to the people on the ground.
AirACES is an aviation talk society, providing its members with regular talks, given by experts in many different fields related to the world of aviation. These talks cover subjects such as test flying, piloting iconic aircraft, RAF, aviation industry, air displays and many other related topics.
The talks are held at the Chichester Park Hotel, Westhampnett Road, Chichester, 7.00 for 7.30 pm.
Tickets available on the door. Admission for members is £3, non-members £5 and under 16s FREE.
For further information about AirACES, please see www.airaces.org.uk, or call David Batcock on 01243 823007