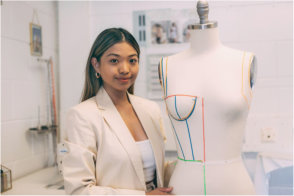 Making Space is Havant's very own community craft charity, based in their purpose-built premises in the heart of Leigh Park.
As well as running regular classes in a variety of craft forms, Making Space has a busy outreach programme, providing subsidised activities in the community, and is home to a number of professional makers who have their own studios on site.
From Leigh Park to London - success for local fashion designer.
Making Space says a fond farewell to Cabrini Roy, who started her fashion brand as a resident maker in 2019. Her entrepreneurial brilliance meant she was able to thrive even during the pandemic, developing a suite of online dressmaking workshops that gained subscriptions from across the globe. Now, Cabrini is taking the next step in her phenomenal journey - she is part of the British Fashion Council and is moving to London, one of the fashion capitals of the world.
This is exactly the sort of success story we love to see at Making Space. Having first walked through our doors in 2012 for two weeks' work experience, Cabrini is now at the forefront of the British fashion scene. We wish her the very best of luck!
Our spaces are yours to use
As well our seven studios, our two well-equipped workshop spaces are available to hire. With jewellery benches, potters wheels, ceramics kilns and plenty of equipment and tools, Making Space looks forward to welcoming you. Perhaps you would like to join us for our weekly free drop-in sessions every Wednesday between 10 and 12, or hire our facilities for your own creative practice, get in touch and we can't wait to meet you.
For more information or to get involved visit our website: www.makingspace.org