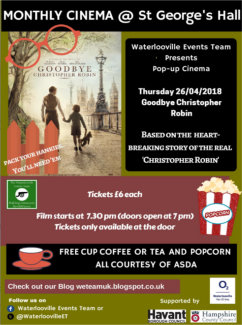 Waterlooville Events Team is a community group made up of volunteers from all walks of life with an aim to encourage a sense of pride and community spirit in Waterlooville.
We created the pop-up cinema for local residents after plans for a large cinema complex fell through. Now the pop-up cinema is going from strength to strength, while simultaneously boosting exposure for local businesses.
We have film shows on the 4th Thursday of every month at St George's Church Hall, Waterlooville and tickets are priced at only £6 which includes a free tea or coffee and a small treat (kindly donated by local supermarkets). Doors open at 7pm for the film to start at 7.30pm.
We would love to see you at our next film, `Goodbye Christopher Robin' A behind-the-scenes look at the life of author A.A. Milne and the creation of the Winnie the Pooh stories inspired by his son C.R. Milne. For further information of our forthcoming films follow us on Facebook. Any questions please ask me Denise Chart.