Emsworth-based arts organization is undergoing a temporary change of direction as it celebrates seven years of existence.
Artistic Director Mark Ringwood explained "The availability and affordability of artists coupled with venue availability and constraints on my own personal time have led to us promoting a much longer season of events – primarily concerts – as opposed to a concentrated and more varied festival. Sometimes these things happen but we've already taken steps to ensure that the 2019 WemsFest will be as diverse as our previous six festivals. Despite this temporary setback I think we've a fascinating and challenging series of concerts and events to look forward to and it will be a fitting tribute to co-founder Julian Sluggett who passed away last year."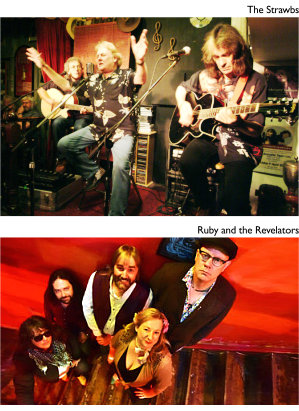 There are over twenty-four programmed events, with more likely to be added in 2019, and a new venue in Emsworth Sports & Social club which has the second largest audience capacity in the village and is being used for concerts starting with Benji Kirkpatrick's Excess, on Friday 14 September and continuing with Ruby & The Revelators, Amy Rigby, Ray Cooper, and Ross Ainslie & Ali Hutton's Symbiosis – and a number of blues artists being lined-up for early in the New Year. The 300-capacity Baptist Church is hosting some of the biggest established names in British folk music – The Strawbs, Pentangle, Oysterband, and Karen Matheson appear there along with exciting new folk artists Imar, and Orcadian female quartet Fara. The atmospheric Chidham Village Hall hosts an extremely diverse series of concerts beginning with kora maestro Diabel Cissokho and his band on 13 October, and going on to include veteran blues duo Dave Kelly and Maggie Bell, Lil' Jimmy Reed & The Bob Hall Band, The Red Dirt Skinners, and concerts by bluegrass experts John Reischman & The Jaybirds, and Ron Block with Tony Furtado.
The 3rdEmsworth Beer, Cider & Wine Festival is being held at Emsworth Community Centre, and the hardest Quiz in the area will aim to raise funds for Macmillan Support and Hampshire Air Ambulance. WemsFest's relationship with cellist Ella Rundle continues when she brings a string trio to St. John's Church in Westbourne for a programme which includes 'The Goldberg Variations' by J S Bach on 27 October.
As always tickets are available from Bookends (Emsworth), www.wegottickets.com, as well as new outlets The Hayling Island Bookshop, and Havant Music Mart, and the whole programme is online at www.wemsfest.com