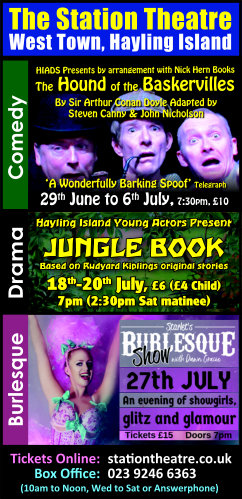 The Hound of the Baskervilles
Hayling Island Amateur Dramatic Society presents by arrangement with Nick Hern Books: The Hound of the Baskervilles. Sat 29th Jun to Sat 6th Jul 7:30pm, £10. By Sir Arthur Conan Doyle. Adapted by Steven Canny and John Nicholson. Directed by Laurie Noble.
Sir Arthur Conan Doyle's most celebrated Sherlock Holmes story gets a gloriously funny makeover in this 'wonderfully barking spoof' (Telegraph) adapted by Steven Canny and John Nicholson. When Sir Charles Baskerville is found dead on his estate, with a look of terror still etched on his face, and the paw prints of a gigantic hound beside his body, the great detective Sherlock Holmes is summoned from Baker Street, with Dr Watson in tow, to unravel the mysteries surrounding his death, and investigate the ancient curse of the Hound of the Baskervilles. 'The most popular of the Sherlock Holmes stories becomes pure comic bliss' – Stage. 'A mad hilarity that will make you feel quite sane' Sunday Times.
Jungle Book
Hayling Island Young Actors present: Jungle Book. Thu 18th Jul to Sat 20th Jul 7pm and 2:30pm Saturday matinee, Adults £6, Children £4. Written by HIYA and based on the original stories by Rudyard Kipling. Directed by Laura Duncan
The talented Actors of HIYA bring the stories from Rudyard Kipling's "The Jungle Book" to life in this exciting and lively home-grown production.
Burlesque: Starlet's Burlesque Show
Sat 27th Jul 7:30pm, £15. Dawn Gracie presents: For the first time in its history, The Station Theatre opens its doors to a burlesque show courtesy of award-winning entertainer and producer Dawn Gracie. Following her hit show 'Tales from the dressing room', this time Dawn is back with a bevy of beautiful burlesque showgirls for her popular Starlet's Burlesque Show.
A burlesque show is a whirlwind of feathers, tassels and tricks with a more 'adult' theme, designed to make you go wow! Not for the sensitive souls but certainly for those of you who like your entertainment to be energetic, high voltage and with plenty of tease!
Dad's Army
Hayling Island Amateur Dramatic Society presents, by arrangement with SAMUEL FRENCH Ltd: Dad's Army. Sat 7th Sep to Sat 14th Sep 7:30pm, £10 by Jimmy Perry and David Croft. Directed by Jason Christopher.
The classic BBC TV comedy series of the Home Guard of Walmington-on-Sea who battle daily against the Germans and local ARP Warden Hodges, comes to the stage complete with all the well-loved characters: "stupid boy" Pike, "Don't panic, don't panic" Jonesey, "Doomed, we're all doomed!" Fraser, "May I be excused, sir?" Godfrey, and all under the command of the redoubtable Captain Mainwaring and his effacing deputy Sergeant Wilson. The play is based on three TV episodes including "The Deadly Attachment" in which Captain Mainwaring shouts the immortal words "Don't tell him, Pike!" - arguably one of the best loved moments of British TV comedy.