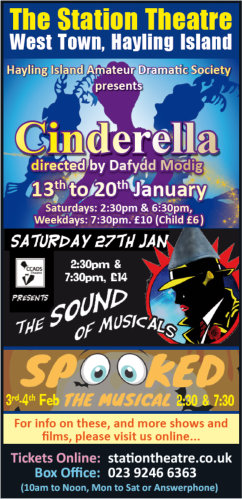 Roll up, Roll up, for the exciting HIADS (Hayling Island Amateur Dramatic Society) pantomime. This year it's everyone's favourite Cinderella, co written and directed by HIADS own Dafydd Modig. It's a great show, jam packed with awful jokes, shoddy props and some of the hammiest acting you'll ever see… just as it should be! It's got all the usual outrageous characters in it but I must say the ugly sisters this year, well they really are u… oh what's that… they're behind me!!... as I was saying… the ugly sisters this year are "Unbelievably talented", and not at all scary in any way.
The show runs from the 13th to the 20th January with performances at 2:30pm and 6:30pm on Saturdays and 7:30pm weekdays. No Sunday performances. Tickets at £10 or £6 for children are available from the box office, Mon-Sat, 10 till noon. 023 9246 6363. Or online via www.stationtheatre.co.uk.
The theatre is showing the movie "Churchill" on the 26th January and CCADS perform "The Sound of Musicals" a celebration of songs from the shows on the 27th January. More details can be found on the website.