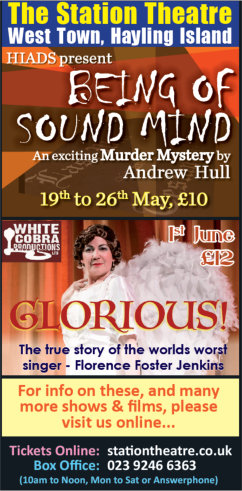 'Being of Sound Mind' by Andrew Hull is a play set in the drawing room of an old manor house, the time is the early 1970's although the décor of the manor house has not changed for the last 25 years. Edward Goodchild has died and the characters have been called for the reading of his will. Stephen and Penelope Asquith are eager for money, Martin Bodmin does not quite know why he has been summoned and ex-actress Rebecca Flockhart, sister of Edward Goodchild's wife Eleanor who died before Edward, has her own reason.
However their inheritance is not as straightforward as they think as Edward has put a stipulation which he calls a "chicken clause" in his will which is that they all have to survive the night in the house until 9am the next morning in order to receive the whole inheritance. Why has he done this?
'Glorious: The True Story of Florence Foster Jenkins, the Worst Singer in the World' by Peter Quilter.
You may recall there was a film last year with Meryl Streep and Hugh Grant. The play is even funnier!
Hilarious comedy of the worst singer in the world. In 1940's New York, the performer who everyone wanted to see live was Florence Foster Jenkins, an enthusiastic soprano whose pitch was far from perfect. Known as 'the first lady of the sliding scale', she warbled and screeched her way through the evening to an audience who mostly fell about with laughter. But this delusional and joyously happy woman paid little attention to her critics, instead she was surrounded by a circle of devoted friends who were almost as eccentric as she was.