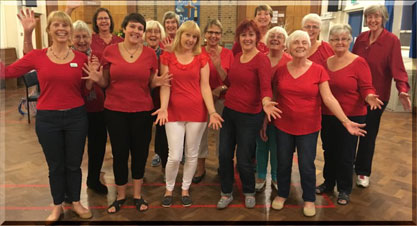 Singing in the community is one of the most important benefits that we can ever share. It promotes a feeling of belonging, and companionship. Having just completed our six week " Love to Sing" course, we hope that we have inspired even more people to take up this wonderful hobby. After a fun warm-up our new ladies learned two songs with us. Anthem, from Chess, written by B Anderson, T Rice, and B Ulvaeus, and This is Me, from The Greatest Showman, by Benj Pasek, and Justin Paul. There is so much good music out there that it can be really difficult deciding which to sing first.
Our chorus has been together for over ten years, and we are lucky to be able to enjoy coaching days with some of the best, funniest, female voice coaches who travel all over Britain. What makes it interesting is the mix of craft work, and performance training. Believe me, when you have enjoyed one of these days, you really know it!
Our Open Evenings are held on the first Tuesday of every month except in January when we will meet on the 9th from 7-30 until 9pm. We would love more ladies to join us, so feel free to bring a friend. We rehearse every Tuesday evening 7-30 till 10pm at Havant Methodist Church, Petersfield Rd, Havant, Hants PO9 2HU. For info call 023 9364 1997 or 023 9245 1220.