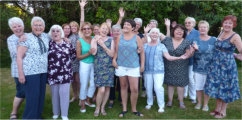 Tuesday 11th September - 4th November - 7.30 - 9.00 FREE - (but you can stay and watch us rehearse till 10.00)
Do you love to sing? Not sure that you can? (We all say that) - Then come and give it a go in a friendly supportive six week taster course. The twenty plus existing members will learn two songs together with you, under the direction of Josie, our dynamic, new director, to perform them at Gosport Music festival in November.
What to expect - We will do a little "voice test- to see where your vocal range is, then place you in a section with other similar voices.
We sing in four parts - Tenor - the highest notes, Lead- the melody, where most of us sing. Baritones- for those with a good vocal range and can often read music, and Bass - the low, powerhouse notes.
All at Havant Methodist church, Petersfield Road, PO9 2HU - contact us on 023 9245 1220 or 023 9263 2414