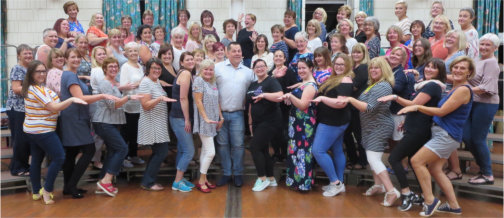 Advent A Cappella is a fun festive singing workshop for ladies, hosted by the wonderful Spinnaker Chorus, starting on Wednesday 14th November, 7.30pm at Blendworth Church Centre, Horndean PO8 0AA.
Now in its second year this workshop is once again set to bring Christmas back to the community. It will run weekly for 5 weeks, during which time we will provide all learning materials to teach you a selection of festive songs in the company of chorus members. No experience required, you do not need to be able to read music, just the ability to learn and hold a tune. There will be no pressure we just want you to come along, have fun and enjoy experiencing our fabulous hobby,  singing in four part A Cappella (unaccompanied) harmony. We will also provide refreshments including delicious cake. All this for just £5 per week!
For taking part in AAC'18 you will be invited to perform with Spinnaker at two of our Christmas events. Firstly at our Christmas Show, What the Dickens! on Saturday 8th December, which takes place at St. Mary's Church, Fratton Road, Portsmouth. Also at our charity carol singing event at Gunwharf Quays shopping centre on Saturday 15th December, where we will be entertaining shoppers by the beautiful Christmas tree in Central Square. A percentage of donations collected will be given to Gunwharf's selected charities.
To book a place for AAC'18 please email: adventacappella@yahoo.com, we would love to hear from you.