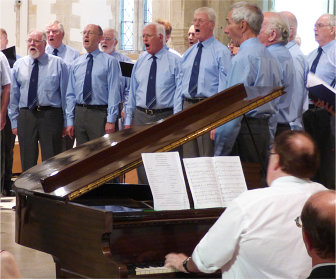 "We are hoping to get back singing soon" says Solent Male Voice Choir chairman David McVittie. "We have been meeting on Zoom, singing along to tracks played by our Musical Director but it is not so effective when you cannot actually hear your fellow choristers".
Solent Male Voice Choir is hoping to resume practices in late June at the Pallant Centre, Havant on Tuesday evenings. It will be great to get back together – singing does so much to lift the spirits and assures us of good mental health.
We are hoping to increase the size of the choir from its present twenty members and newcomers can be sure of receiving a warm welcome. Further information can be gained by contacting: secretary@solentmalevoicechoir.org
Autumn/winter concerts have been arranged for:
October 30 (St Georges Church, Waterlooville)
November 27 (Methodist Church, Portchester)
December 14 (the Pallant Centre, Havant).
We also plan to meet in The Ship car park at Langstone every Thursday morning for now, unless it rains, in which case we go to the A27 underpass in Wade Court Road, Havant. It is very flexible.