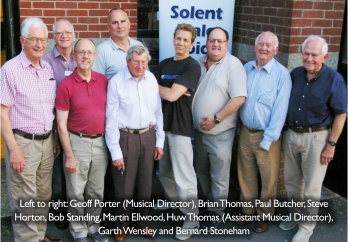 Havant- based Solent Male Voice Choir is celebrating an upsurge in membership and its musical director Geoff Porter thinks he knows why.
"Studies have shown that when people sing, endorphins and oxytoxin are released by the brain which lower stress and anxiety levels and enhance feelings of trust and bonding," he says.
Singing boosts confidence as well he believes..." The release of endorphins gives a positive feeling and an energy boost and learning a new skill and being part of a group also increases confidence and self-esteem."
Geoff's thoughts about the benefits of singing are – unsurprisingly – borne out by newcomers to Solent MVC. Since early spring ten new faces have boosted the quantity and quality of the choir and they are clear about why they have stayed.
Baritone Brian Thomas from Emsworth says "I feel good about learning new songs and improving my singing. I enjoy the sense of camaraderie – they are a very welcoming group".
Second tenor Martin Ellwood from Waterlooville says he finds singing emotionally uplifting…"its fun and rousing to sing with others,especially the stirring,emotional songs.
"I'm used to singing the melody, so I'm having to make big adjustments to sing tenor."
An organisation called the Sing Up Foundation has done much research into the benefits of singing and concludes that singing allows people to "turn off their stream of consciousness and live completely in the moment, dispelling negative thoughts,focusing on the sound,the action,the breathing,the feeling and the pleasure of song."
The foundation's research has shown that singing together creates a strong sense of community and social inclusion. It provides an emotional support system where you feel esteemed and has a positive influence on overall physical health.
Readers wishing to see the choir in action are very welcome to come along to our weekly practice at the Pallant Centre (formerly St. Faith's Church Hall) on a Tuesday evening at 7.30pm.
Next practice will follow a summer break. Contact: 07494 691486 for details.