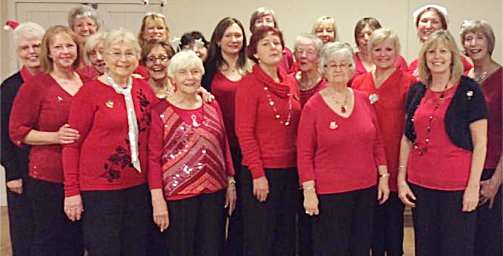 Start it right by finding a new hobby. What do we do when we are happy? We sing. Sing with Karaoke, sing in the shower, so why not sing with other people? (not in the shower though). The answer is, join a choir. People who sing tend to be happy, friendly, and stand a good chance of staying healthy. Singing enables you to enjoy talents that you probably never knew you had. It gives you the feel good factor as it releases endorphins, and oxytocin into your system.
I just happen to know of a lovely choir. Spirit-of-the-South are an all female group, who welcome the opportunity to share their time with enthusiastic ladies of like minds. Singing in four part harmony is very satisfying, as well as a lot of fun. You have a great sense of achievement when it all comes together. Then, you get the WOW factor. We enjoy all the usual things. Singing at Summer fairs, private parties, social events, and we do like to compete, which is half the fun, as we make new friends along the way.
If you are interested, come along to our Open Evenings held on the FIRST Tuesday of every month, from 7-30 until 9pm. You are sure of a warm welcome.
We rehearse every Tuesday evening, at Havant Methodist Church, Havant, Hants, from 7-30 until 10pm - Call 023 9245 1220 or 023 9264 1997.