Step by Step has received an incredible £43,000 donation from the FatFace Foundation, thanks to the success of the foundation's first shop.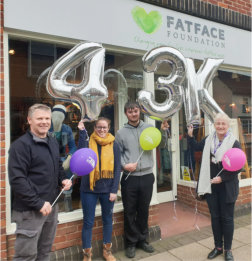 Step by Step and the FatFace Foundation have already achieved so much after just one year of partnership. The partnership focuses on the charity's key aims of empowering young people and preventing youth homelessness.
On the 12th October 2018, FatFace opened their first FatFace Foundation store at the Meridian shopping centre in Havant. The store sells unworn outlet stock at discounted prices. 100% of the profits made from the store go to local charities in the area, with Step by Step the main beneficiary. The store has been enthusiastically received by shoppers and supporters alike.
"One of our key focuses is the overall wellbeing of people, starting with the base level support of food, shelter, clothing and then on to create opportunities for people to reach their full potential," said Ian Williams of FatFace. "We are very proud to support Step by Step in making such a big difference to young people when they really need it."
As well as providing crucial financial support, FatFace Foundation also offers practical assistance in terms of work experience and job opportunities at their recently built warehouse in Havant.
FatFace also donate new clothing, which directly helps young people living at Step by Step Foyers by boosting self-esteem and lifting barriers to employment.
A Step worker said: "Some young people arrive at Step by Step with nothing but the clothes on their backs. They can't even wash the clothes they are wearing because they have nothing to change into."
"This partnership means so much to us because it makes such a difference to young people in challenging situations," said Debbie Moreton, Head of Young People's Services at Step by Step. "The financial generosity, clothing and work opportunities from FatFace give young people a real chance for a brighter future."