Your stringed instrument and the weather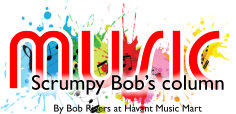 Every so often I'm asked by a musician to have a took at their instrument, mainly guitars and the odd ukulele, that has become unplayable! The one thing most of us don't take into account is the ever changing weather. How many players have felt their guitar would be safer hanging from a wall hook only to place the hanger on a wail that gets a lot of sun! Or too near a radiator or electric fire heater, and the body or neck warps out of shape!
During the summer a customer had left his western acoustic in the spare room, thinking it would be safe, but this summer the heat at times was excessive with no windows or door open the room temperature went up and sadly the body of the guitar moved!
Another place people forget how hot it gets, the motor car, a hot place on a hot day, not a place to leave your instrument!
Basements, Lofts, sheds and garages all suffer with the heat, cold and damp not the best of places to store, a no longer played and in the way instrument.
About five years ago I bought a nice 15 year old Washburn electro acoustic, it was rather dusty, with rusty strings. The woman I bought the guitar from said it had been in the basement for the past few years. As I worked my way removing the bridge pins the 5th ( A ) I pulled the pin out, so the bridge came away from the body, due to damp! It was cleaned up and repaired, saved a really nice guitar. People and accidents are another source of damage, a young customer, a very serious musician, had a friend sit on the neck of a nice playable acoustic guitar. Sadly, quite often, the cost of repair can be more than the instrument is actually worth!
A friend some years ago had good fortune, and bought his grandson a brand new Gibson Les Paul electric guitar. The grandson had it for about six months leaving it on the floor he stepped on the neck by accident - it has been repaired twice since. Sadly it will never be the same as it was originally and of course the value will be less on a resale.
So try and treat your instrument with care and it should hopefully last you for years.
Enjoy your music.
By
Bob Rivers at Havant Music Mart