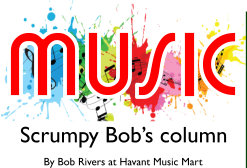 THE INTERNET - BUY WITH CARE
Back in about 2001 I was reading an article in the monthly music trade magazine about buying instruments on line, and what future did the musical Instrument bricks and mortar shop retailer have now people had started to buy on line.
In the article the chairman of one of the largest instrument distributors in the UK 'John Hornby Skewes' was asked what his view was on the growth of on line buying. He replied that he could not see the growth of instrument sales on line as you need to see and play an instrument to see that it suited you, the quality, sound, size fit etc...
Now sixteen years on, and hundreds of Musical instruments stores have closed down all over the country are the buying public any better off or any the wiser regarding the quality of what they buy on line? Over this period I have seen some right rubbish passed off as quality, with all sorts of problems.
The consumer laws were changed to protect the on-line sales buyer but this only works with known British retailers who will make sure that what you get is fit for purpose. But it still remains better if you go to your local instrument store, see, feel and play the instrument.
What looks like a bargain in the photograph, could be trouble, and since 2001 I've seen lots of so called bargains with the buyer losing out!
By
Bob Rivers at Havant Music Mart