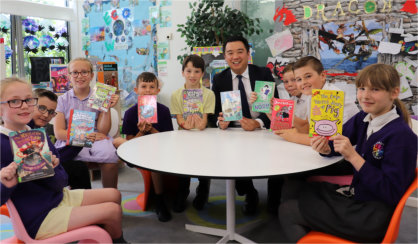 Havant MP Alan Mak has launched a School Reading Club with the aim of getting more children reading books.
Launching the Club at Barncroft Primary School in Leigh Park, Alan spent time reading with children and discussing some of his favourite books.
He said: "I'm delighted to launch my new School Reading Club to get more children to read books. I've been an avid reader of books since I was young, and I believe they can make a big difference in improving children's knowledge and enjoyment of learning."
"My Reading Club encourages children to spend some time every day away from computers, phones and tablets and read a book instead."
To inspire children to be part of the Club, Alan plans to invite several children's authors to the constituency in the next academic year."
Alan continued: I really encourage all parents to get their children reading more."
The Reading Club will be launching in more schools from September. However, parents who wish to sign-up their children can do so by emailing Alan.Mak.MP@Parliament.uk
Every child who joins the Reading Club receives a free bookmark and those who read five books by Christmas 2019 will receive a certificate from Alan.