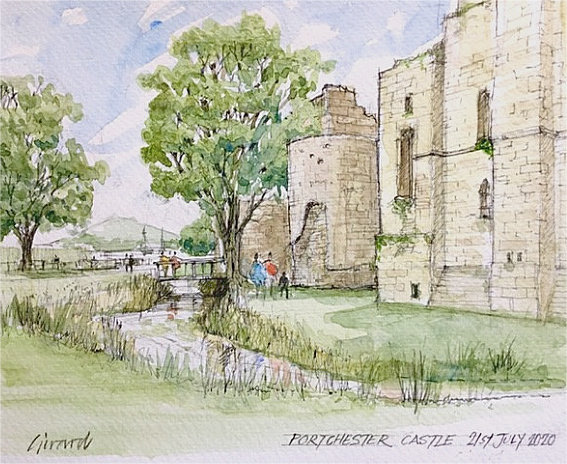 Rowlands Castle Painting Society has been lucky to resume their Tuesday painting/picnic days out recently. Langstone Harbour was visited, luckily the day was very bright, although with quite a breeze at times. The low tide exposed the remains of the Wadeway, this footpath has probably been in existence since pre-Roman times. At low tide this was the access to Hayling Island for walking or riding until the first wooden bridge was finished in 1824.
Many members enjoyed painting the view of the Old Mill with its tough black tarred outer skin. A working mill until around the First World War and at one time owned by the artist Flora Twort and so much a part of the landscape at Langstone.
Another previous picnic/painting day took place at Portchester Castle where the weather and light were very good for our members to enjoy. A very popular place for picnics and socializing outside. The best preserved of the Roman Saxon Shore Forts, Portchester Castle is cared for by English Heritage. The Castle is now back open, booked tickets only. The Norman St Mary's Church within the walled castle grounds is another inspiration for the artist.
On all the painting/picnic days out members enjoy the social aspect of getting together and having a chat. Spokesperson for the group Jan Roblin said "More sketches/paintings can be seen on our web site www.rowlandscastlepaintingsociety.co.uk of the various locations recently visited by members." Rowlands Castle Painting Society is a friendly, open to all abilities Painting Society which welcomes new members.