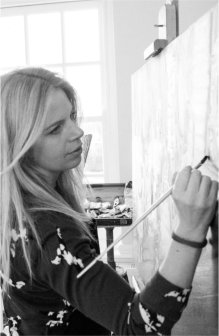 Rowlands Castle Art Society are starting their winter programme this October. Spokesperson Jan said "If you like drawing/painting why not come along to our friendly, well established Society which caters for all abilities." "We are looking forward to workshops, life and portrait drawing afternoons and evening demonstrations, we have a very comprehensive programme."
Meetings are held on a Tuesday in Rowlands Castle Parish Hall. Other events include picnic/painting days during the summer months and we hold a Christmas Party for members in December.
One of four artists who will be giving an evening demonstration during this time is award winning artist Lucie Cookson (pictured above). Her work has been in the National Portrait Gallery, The Hermitage and locally Pallant House.
Lucie said "As an artist I believe you are constantly learning, whatever level you are at."
For further information please contact John Davis on 01243 371662 or take a look at the website: www.rowlandscastlepaintingsociety.org.uk