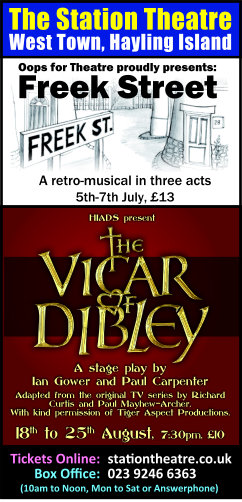 The elderly conventional vicar of the small English village of Dibley has passed away. A new vicar has been requested for a replacement.
What they get is Geraldine Granger, a non-traditional, chocolate loving, rock n' roll playing vicar. That is not what gets the citizens of Dibley in a uproar though. It's because she is a woman. Still, that doesn't stop Geraldine from proving her worthiness to the village. After time, the villagers (with the exception of influential David Horton) accept Geraldine as The Vicar of Dibley.
This iconic and brilliantly funny TV series has been cleverly adapted as a stage play with wit and humour throughout. This stage play is taken primarily from series 1 and 2, authors Ian Gower and Paul Mayhew-Archer have condensed some of the most popular sketches. It includes the Vicar's arrival and her refusal of Owen's marriage proposal to Hugo and Alice's wedding ceremony.
At the Station Theatre Hayling Island from 18th to 25th August. Tickets £10 from the box office on 023 9246 6363 or online at stationtheatre.co.uk