LOCAL TEAM'S THIRD EVENT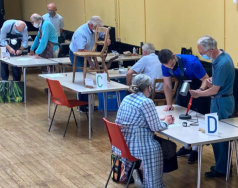 Customers and repairers came together for the fourt time on 2nd October at the Pallant Centre in Havant to hold their Repair Café - for the first time with refreshments available for a modest contribution.
The next event on 6th November and future events are planned for the first Saturday each month.
Don't skip your stuff, bring it along and see if it can be fixed.
Pre-book an appointment with a repairer by visiting the website: www. repaircafehavant.org