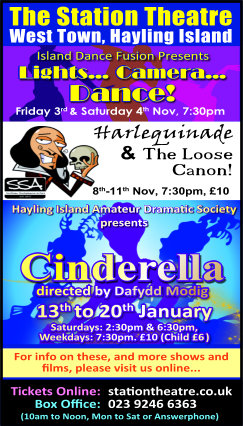 Hayling Island Amateur Dramatic Society presents 'Cinderella' a traditional pantomime written and directed by Dafydd Modig. The show will run from Saturday 13th to Saturday 20th January 2018 with both Saturdays consisting of performances at 2:30pm and 6:30pm and week night shows at 7:30pm.
This time the question isn't "will good defeat evil" but rather "will virtue get its just reward". Cinders is good, kind and pretty streetwise, and as usual her stepmother and sisters are the opposite and treat the poor girl as a lowly drudge. So when you meet her you're bound (just like the soft hearted Buttons) to fall in love with Cinders and hope she escapes her wretched life.
Fortunately, her rapping Fairy Godmother is on hand to help things move in the right direction. It so happens that Prince Charming is searching for someone to love him for himself rather than being heir to the throne and, just maybe, everything will work out for Cinders.
Tickets £10 for adults and £6 for children are available from the Station Theatre box office on 023 9246 6363 or online at www.stationtheatre.co.uk. The box office is open daily from 10 until noon, Monday to Saturday.