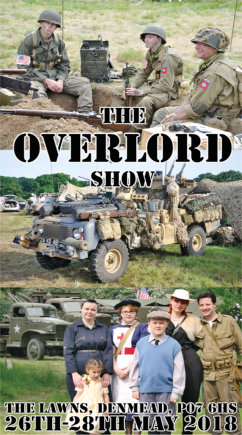 On site together with trade stalls, selling a vast range of militaria, books, uniforms and curios, there is a well-stocked beer tent together with range of food outlets.
Again, this year the site also includes a separate off road course, with driving demonstrations provided by the Wessex Hillrunners 4x4 Club.
There is a large FREE car park within the grounds. Public opening hours are 09:30 to 17:30 on each of the three days of the Bank Holiday – Saturday 26th, Sunday 27th and Bank Holiday Monday 28th.
Admission is at the show entrance - £10 per adult, £5 per child, seniors £8. A family ticket for 2 adults and 3 children (5 to 15 year old) is just £25 - Further detail on the website: www.overlordshow.co.uk