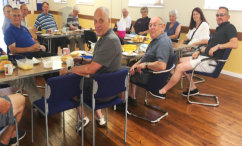 Hayling Voluntary Services (HVS) have been running a veterans coffee morning from Hayling surgery for the last six months.
It has grown in popularity to such numbers that HVS have had to find us a new venue. We now meet at the Eastoke Community Centre every Thursday from 9-1. This new venue means the lovely volunteers are now able to cook us bacon sandwiches and we have outdoor space should we want to learn to play croquet!
I visited the new venue for its inaugural meeting and received the usual warm welcome from HVS chair Lin Green and the team; Carol and Peter Burton, Rose Scarrott and Kim Downland. This meeting is for all call signs and I enjoy very much meeting new and old local veterans from across the board.
Recently HVS organised a trip to Bovington Tank Museum and will be organising more trips later in the year.
HVS run various social prescribing activities (meet ups to prevent social isolation) please have a look at their website to see if there is something there that takes your interest https://www.haylingvoluntaryservices.org.uk/