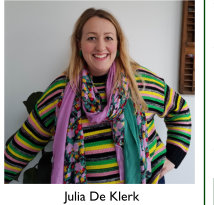 Spring is an explosion of colour and texture, and Havant-based craft charity Making Space is offering two very different opportunities to explore these aspects of nature through craft this March.
Those who love the brilliant, bright colours of flowers in bloom should head along to Julia De Klerk's Acrylic Floral Jewellery Taster Session. Julia creates iconic statement jewellery using acrylic shapes, and over two hours participants can choose from a selection of Julia's pre-made acrylic flora to create a vibrant necklace to take away. All materials are included in this workshop, which takes place on March 16th from 10am until 12 noon, priced £41.
On the same day, Mary Dalton's Natural Collagraphs workshop is perfect for makers who revel in the varied textures of the natural work. Collagraphs bring together contrasting textures and surfaces using collage and layering methods. These arrangements are then inked and printed onto paper to create unique prints with an amazing level of detail. This longer workshop runs from 10am until 3pm on 16th March and costs £76.50 including materials.
Making Space aims to ensure that all participants receive meaningful guidance from their tutors at workshops and for this reason places are limited. Book early to avoid disappointment, and you can secure your place with just a 50% deposit.
Fore more information on these and other Making Space activities, or to book, visit makingspace.org, or call the Box Office on 023 9247 2491