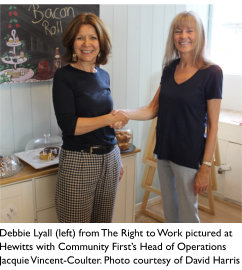 Community First, a local registered charity, has managed the Hewitts community building in Emsworth for many years and more recently with their partner organisation The Right to Work, a Community Interest Company. The Right to Work enables better life chances and employment opportunities for adults with learning disabilities. The building provides a vibrant Centre providing fantastic, affordable, freshly cooked lunches and community spaces that are hired by a wide range of voluntary organisations and activities groups including the Emsworth Stroke Club.
The lunches are brilliantly cooked and served by adults with learning disabilities who are making a valuable contribution in supporting others, and older people and local people support them by using the lunch service. Hewitts provides a truly inclusive place in the community where people can come together and use their strengths for mutual benefit.
After much careful thought and consideration Community First terminated their lease with Havant Borough Council and transferred the Lunch Club and the Hewitts community building to The Right to Work who have been providing the excellent lunch services at Hewitts for several years.
Tim Houghton, Chief Executive of Community First said "Community First is delighted that The Right to Work is able to take the Hewitts services forward into its next phase and we have every confidence that the services will go from strength to strength in what we know is a challenging environment for all organisations managing community buildings. We would like to thank all our supporters and funders of Hewitts over many years who have helped to grow the services, and to reassure all Hewitts customers that they will continue to experience the same excellent services under the management of The Right to Work. Community First and The Right to Work have had a brilliant partnership and we wish them every success for their future at Hewitts. "
Debbie Lyall, Managing Director of The Right to Work said "We are looking forward to taking on the management of Hewitts and wish to thank our partner, Community First, for their support over recent years. Our people with learning disabilities have rare and wonderful work opportunities at Hewitts and provide high quality services. We are hopeful of being able to provide more employment opportunities for them in a community where they are able to make a real and valued contribution and receive wonderful support from local residents and businesses in a place where they feel so accepted and safe. Every lunch that is sold and every community space that is hired helps to provide a better life chance for people with learning disabilities who have a fantastic contribution to make."