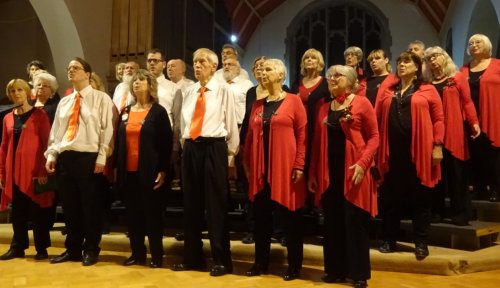 Bedhampton choir, Folks in Harmony, are once again staging a summer show much to the delight of their regular audience! Titled 'Midsummer Madness,' the show is on Saturday 29th June at 7.30pm in The Church of the Resurrection in Penrhyn Avenue, Drayton, Portsmouth, PO6 2AP.
Now in their seventh year, the mixed choir has swelled to over 40 singers, which gives a depth to the sound, especially as there is a large and enthusiastic bass section! The 'a cappella' choir's harmonies have always been sweet and balanced, but they now have a resonance and a confidence gained from experience. This is no surprise as many of the singers have been with the choir for a number of years and have clearly benefited from the potted singing lessons at the beginning of each rehearsal.
The concert features many new songs from the worlds of classic pop, musicals and folk, and resident arranger and co Music Director, Peter Mumford, takes delight in moving the melody around the different voice sections in his arrangements.
However, as ever, Folks in Harmony is more than a choir! Many of the choir members are showcasing their individual talents to create a great variety performance. The programme includes classical music, poetry, a couple of humorous items, solos, as well as superb harmonic singing from the small mixed group, Octangle, and the small ladies group, B Natural.
The profits from the concert will be donated to 2 charities close to the hearts of a couple of the choir members, Myaware, which supports people with myasthenia, and the RNIB.
Bass David Lockyer chose Myaware because his granddaughter was diagnosed with myasthenia gravis when she was only 14. It is an auto immune disease that causes muscle weakness and the effort needed to overcome this causes extreme tiredness. It also affects speaking, smiling and swallowing. The money will be spent on research to find a cure for this pernicious disease.
Tenor Lin Longhurst, who selected the RNIB, is a great fan and said, "The charity did a lot for my aunt when she had failing eyesight. I also receive treatment for glaucoma, and can see first-hand how many people are affected by eye conditions. I think it is a very worthy cause."
During the interval the audience will be treated to summer spritzers and ice creams which are included in the ticket price of £8. Tickets can be purchased by ringing 02392 366508. More information can be found on the website www.folksinharmony.co.uk