Events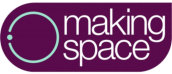 OPEN DAY – Saturday 19 August, 10am-4pm - FREE ENTRY
Discover what is coming up in our craft programme over the next six months and find out more about what's on offer at Making Space. Experience a range of craft activities with the chance to take advantage of our early bird offer.
REACH OUT SUMMER SCHOOL – Monday 21 August, Wednesday 23 August, Friday 25 August
Creative workshops for children aged 7+ with additional needs providing the opportunity to enjoy making and creating, learn new skills and make friends.
Children can come on their own, with a parent/buddy. £9 Half day workshop, £17 Full day workshop, £50 for full week.
Further information and booking: http://makingspace.org/product/reach-out-summer-school/
BASICS OF PHOTOGRAPHY & FILM – 10 Week Adult Evening Workshop starting Monday 18 September led by Paul Gonella of Strong Island. Sessions are from 7-9pm
A chance to use your digital camera more creatively and learn a variety of techniques enabling you to create an exhibition of images as well as working on creating a short film.
YOUNG DESIGNERS – 10 Week for young people aged 11-16 starting 19 September
This course is a fantastic opportunity for Young Designers to design , make and customise their own garments and accessories whilst learning about design, textiles, the fashion industry & illustration The course takes place onTuesday from 5.30-7pm with the first session on 19 September. 10 week course, £90
SUMMER SCHOOL – Monday 14-Friday 18 August
A great selection of creative workshops for young people aged 7-16 with the chance to work with professional makers to design and create your own work. There are a selection of exciting workshops making up the week's programme.
Further information and booking: http://makingspace.org/product/summer-school-2017/