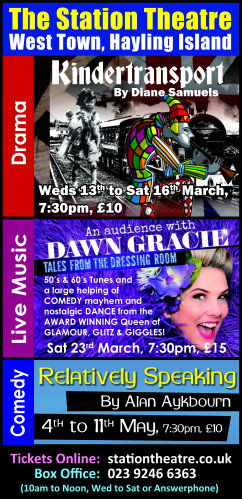 In the 1980s a young woman searches through her mother's attic whilst helping her move to a new home.  She is surprised to find a book in German called Der Rattenfanger – The Rat-catcher, the story we know as the Pied Piper of Hamlyn.
Over the course of this moving play she discovers an extraordinary story.
'Kindertransport' is a modern classic about three women's struggle to come to terms with the past.  From November 1938 until the outbreak of World War II, nearly 10,000 Jewish children were sent by their families in Nazi-occupied Germany to live with foster families in Britain.
Diane Samuels imagines the life of one such child, looking back at that time from a much different era. Having won many prizes 'Kindertransport' is now widely considered a modern classic, and in the 80th anniversary year of the outbreak of that war it has a special relevance.
A HIADS production at the Station Theatre 'Kindertransport' runs from Wednesday 13th March to Saturday 16th March 7:30pm.  Tickets are £10 from the box office (023 9246 6363) Wednesday to Saturday from 10 until noon or online at: www.stationtheatre.co.uk