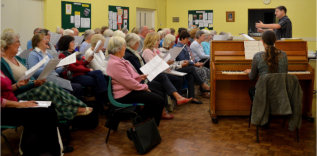 In 1984 a group of enthusiasts led by Frank Ford placed an advertisement inviting those interested in singing for fun to attend an exploratory meeting on 19th February at the Haying Island Community Centre. The invitation was simply "Come sing with joy".
Some forty-eight people attended and such was the enthusiasm that a steering group was set up. The inaugural meeting was held on 2nd March with fifty-one members in attendance. The Musical Director was Brian McGrath and the accompanists were Heather Phillips and Joan Howard.
The inaugural concert was given by the choir on 7th November 1984 at St. John's Church in Rowlands Castle.
The choir was invited to take over the established Christmas Concert at the Community Centre. That 1984 concert was such a success that Hayling Island Choir has made the concert its own ever since. The choir now invites the Blendworth Brass Band to join it in the these Christmas concerts.
The choir now performs three concerts a year including the Christmas Concert.
The choir's Musical Director David Cain selects from many styles of music. This year the choir has performed 'The Armed Man' by Karl Jenkins at the Spring concert, and in the Summer concert a selection of songs from around the world including songs from 'South Pacific'. Individual choir members sang various solos from 'Lilli Marleen' to 'On Top of the World'.
The choir meets at St. Patrick's Church hall on Manor Road (PO11 0QU) on Wednesday evenings at 7.30 pm. The Autumn term starts on Wednesday September 5th. New members are made welcome, there are no auditions and new members do not need to read music.
The Choir's Christmas Concert is on Saturday 8th December at the Hayling Island Community Centre.
For more details of membership call:
Peter on 01243 371309 or Julia on 023 9246 2592 - Why not come and 'Sing with joy' ?