Rehearsals and preparations are fully underway for the 3rd season of the Havant Music Festival which takes place at various local venues across Havant, Emsworth and Hayling Island from Thursday 28th March to Sunday 7th April. The Havant Music Festival is the perfect event for music aficionados to "experience" the real essence of live music from local talented singers and musicians at various venues set in the rural coastal town of Havant, a relaxing haven for a break and adventure playground of the south.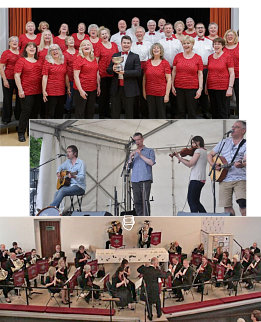 This year's exciting line up features a diverse range of live music events and talented artists, spanning across genres and ages including classical, Big Bands, choirs, folk music, musical theatre and so much more. Returning artists this year include crowd favourites Jay Jupe and the young talent from Dynamo Youth Theatre, and our local Meridian Wind Band and the Leigh Park Community Singers.
We also have some exciting new artists performing at this year's event including Music Fusion who are dedicated to creating opportunities for young people in the area through interactive music workshops and performing at events, the Folks in Harmony mixed a cappella choir, the cool Chi Jazz Band Trio, and the talented Courtiers, a four piece acoustic folk band from Portsmouth.
For the first time this year, we will be experimenting with some free lunchtime concerts from 1st to 5th April in Havant, Emsworth, Hayling Island and Leigh Park.
Tickets available from: The Spring Arts & Heritage Centre, 56 East Street, Havant PO9 1BS - Box Office: 023 9247 2700 See website www.havantmusicfestival.org.uk