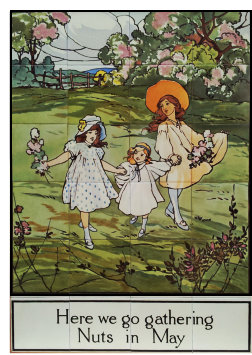 The Spring Arts and Heritage Centre is delighted to announce the Havant Nursery Rhyme Tiles are returning to the town for the first time in five years. The tiles, which are well known to the community as decoration in the Havant Wall Memorial Hospital, were subject to a rescue campaign after the hospital closure. After five years in storage all ten of the tiles are back for the Havant community to enjoy!
The ten nursery rhyme tile panels, that include many popular children's rhymes, were hand painted by Royal Doulton artist William Rowe in 1935.
The eighty-three year-old tiles were designed for the children's ward at the local War Memorial Hospital in order to brighten up the walls of the ward and provide entertainment for the young patients. When the Havant War Memorial Hospital was closed in 2011, the community rallied support to restore the tiles, raising £20,000.
Including information about the hospital, the artist and the tiles themselves, there will be some fascinating facts to learn about the Nursery Rhymes themselves and the origins behind them.
The Spring would like to also thank Barbara Howard for collating the information on the research boards displayed in the exhibition.
The exhibition will be available for viewing from Monday 17 September until Saturday 3 November in the Upper Mezzanine Gallery at the Spring.
For more information, please call 023 9247 2700, or visit The Spring's website
Photo credit: James White Photography