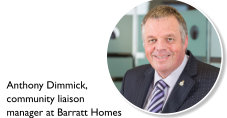 Staff from local house-builder Barratt Homes are touring Hampshire this Autumn in a bid to encourage young people to consider apprenticeships.
The company, which employs apprentices across the region, hopes to inspire more school and college leavers to consider apprenticeships as an alternative career path.
Apprenticeships allow people to 'earn while they learn', getting a wage from their employer while they work towards a nationally-recognised qualification. Most apprentices split their time between their employer and training provider, generally spending four days a week at work and one day a week in college studying.
This Autumn Barratt Homes is on a mission to 'up the number' of young people joining the construction industry through apprenticeships and dedicated training schemes and is undertaking its own tour to shout about the benefits.
Anthony Dimmick, community liaison manager at Barratt Homes, said: "Apprenticeships provide such a brilliant opportunity for young people who want to get stuck straight in and start learning their trade in a hands-on way. They get the benefit of academic learning at college, as well as vital on-site experience from people who have been doing the job for many years. It's a winning mix."
Anthony has already attended careers fairs in Southampton, Eastleigh and Romsey to educate teens and their parents about apprenticeships. On October 17 he took his roadshow to Medina College's careers evening in Newport and on October 26 he exhibited at the Isle of Wight College Future Careers Event organised on behalf of Hampshire Futures Children's Services Department Hampshire County Council.

Anthony added: "We're particularly keen to encourage more girls to consider a career in the construction industry. The sector has historically suffered with a gender imbalance and we're keen to tip the scales."
To find out more about apprenticeships with Barratt Homes visit: www.barratthomes.co.uk