WEDNESDAY 8 JANUARY - THE LONGEST JOHNS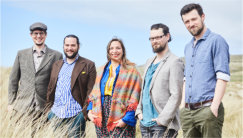 A welcome return of this Bristol-based, a cappella folk band who virtually raised the roof when they appeared at Hambledon for the first time in 2016. The band was born out of a mutual love of traditional folk songs and shanties and they perform both maritime songs and more unusual folk tunes with enthusiasm and fun. Their harmonies are well-wrought, with a majestic bass rattling the floorboards and a female member now adding a honeyed mezzo to the mix.Whether performing songs that are hundreds of years old or their own original creations, the Johns bring a new excitement to audiences wherever they go.
'A magnificent vocal range and wonderful harmonies' (Bright Young Folk)
'I have been enthralled at the purity of their folk music, a cappella prowess.' (Fritz Balwit, Audiophile Audition)
https://www.thelongestjohns.com
WEDNESDAY 12 JANUARY - Winter Wilson
Now in their 8th year as full-time musicians, Kip Winter and Dave Wilson bring a sense of intimacy to every venue, blending superb, often hard-hitting original songs, stunning harmonies and musicianship with sometimes hilarious humour and tales of life on the road. Kip (vocals, accordion, guitar, flute) 'simply has a voice to die for' (John Roffey, Maverick Magazine), whilst Dave (vocals, guitar and banjo) is now rightly recognized as being amongst the top tier of British songwriters, with his songs sung throughout folk clubs across the UK and beyond. Together, their voices are sublime.
'In 30 years of listening to folk music, I have never heard two voices blend so perfectly.' (David Aird, Chairman, Glenfarg Folk Club). Wilson's songs pull no punches when relating to the sights and sounds of everyday local life and are complemented by Kip's powerful and emotional voice.' (The Telegraph)
'Kip Winter's outstanding vocal talents and Dave Wilson's stunning abilities as a songwriter, composer, guitarist and singer welded seamlessly to produce a most memorable evening.' (John Waltham, Living Tradition Magazine): https://winterwilson.com/
WEDNESDAY 11 MARCH - NORTH SEA GAS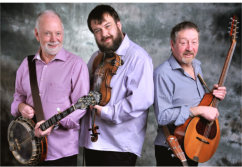 We are pleased to welcome back to the club Scotland's foremost folk entertainers. This hugely enjoyable band combine guitar, mandolin, fiddle, bodhran, banjo, whistles and bouzouki with fine vocals and tremendous three-part harmonies. Expect a mixture of traditional and original material along with plenty of humour and story-telling; an evening of great songs and great craic!
'There's a tremendous vigour and sense of commitment to North Sea Gas' performances.' (David Kidman,Living Tradition)
'No airs and graces just fantastic music'… (EdinburghGuide.com -Edin/Festival)
'The band displays an attachment and reverence for their roots from the very start. The music feels genuine, unpretentious and spontaneous.' (Celtic Radio - Boston)
ALL GIGS:
Venue: The Youth Hut (between Village Hall and Vine Pub), West Street, Hambledon PO7 4RW - Start: 8.30pm (doors open 8.00pm). Floor spots and guests welcome!
Entry: £10.00 (£8.00 members, £5.00 under 18s and students)
Drinks: From Vine Pub next door (or bring your own). Tea/Coffee available at the Club
CONTACT:
ENQUIRIES AND BOOKING/ RESERVATIONS: phone 023 9263 2719 or email: folkclubhambledon@hotmail.co.uk
Website: https://www.hambledonfolkclub.com