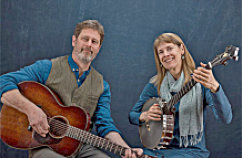 WEDNESDAY 13 NOVEMBER – DANA and SUSAN ROBINSON
From Cabot, Vermont, Americana roots and folk duo, Dana and Susan Robinson combine vivid songwriting and storytelling with fiddle tunes, clawhammer banjo, elegant melodies and rich harmony singing. Their music is the sound and feel of bedrock America. Dana and Susan bring a joyful energy to the stage with their exciting blend of original songs and old-time Appalachian mountain music. You'll hear two rich, intimate voices, intricate and powerful guitar and banjo playing, as well as fiddle and mandolin, in a captivating performance rooted in the traditions of American folk.
'Exquisite music. Musicians like Dana Robinson don't grow on trees!' (Music Upstream)
'Many songwriters have been heralded as modern day Woody Guthries or keepers of the American rural spirit, but that mantle might be better entrusted to musicians like Dana Robinson who embody both the heart and soul of folk music.' (Dirty Linen)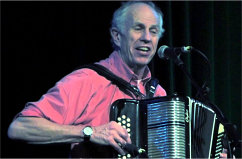 Wednesday 11 December - JOHN KIRKPATRICK (Carolling & Crumpets!) www.johnkirkpatrick.co.uk – the legend returns!
ALL GIGS:
Venue: The Youth Hut (between Village Hall and Vine Pub), West Street, Hambledon PO7 4RW - Start: 8.30pm (doors open 8.00pm). Floor spots and guests welcome!
Entry: £10.00 (£8.00 members, £5.00 under 18s and students)
Drinks: From Vine Pub next door (or bring your own). Tea/Coffee available at the Club
CONTACT:
ENQUIRIES AND BOOKING/RESERVATIONS:
phone 023 9263 2719 or email: folkclubhambledon@hotmail.co.uk
Website: https://www.hambledonfolkclub.com