Wednesday 11th July – WILD WILLY BARRETT'S FRENCH CONNECTION (You really will have heard nothing like it)!
Wild Willy Barrett, known as the Godfather of Grunge Folk, is a highly respected musician whose styles include folk, blues, gypsy jazz, reggae, bluegrass and punk. His latest musical ensemble, Wild Willy Barrett's French Connection, brings together a diverse group of musicians from the UK, Ireland and France - and features an original melange of French, Irish and English acoustic arrangements. From a cafe in Paris, via a hooley in Dublin, to a night out in New Orleans - this band does it all using everything from a guitar, cello, fiddle, Uilleann pipes and banjo (and some exquisite singing) to provide a truly inimitable musical experience! "A unique and heart-lifting tour de force of universal musical themes, rhythms and melodies." (Helen Smith, Old Fire Station venue, Oxford). "A wonderful evening of unique and fresh musical entertainment!" (Simon Icke, Limelight Theatre, Aylesbury). http://www.wildwillybarrett.com/french-connection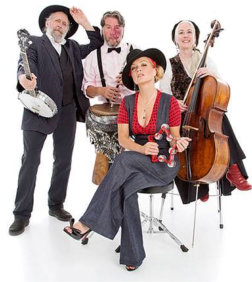 No Club in August – we return after the summer break on Wednesday 12 September
Wednesday 12th September – Greg Russell and Ciaran Algar are a formidable duo in the folk world. Having joined forces in 2011 they combine Russell's powerful vocals and driving guitar style with Algar's All-Ireland winning fiddle playing.
The duo have gone on to become one of the most sought after acts on the British folk scene. In 2013 the pair won the BBC Radio 2 Young Folk Award before going on to win the Horizon Award for best breakthrough act from the same source in 2014. In 2015, they were nominated in the BBC Radio 2 Folk Award Best Duo category. Russell and Algar have released three acclaimed studio albums and toured extensively in the UK as well as in Denmark, Germany and The Netherlands. We are excited to be welcoming them to Hambledon. "Folk at its very best" (Maverick): "invigorating… infectious joy" (Songlines); "Brimming with passion" (FRUK). http://russellalgar.co.uk
ALL GIGS:
Venue: The Youth Hut (between Village Hall and Vine Pub), West Street, Hambledon PO7 4RW - Start: 8.30pm (doors open 8.00pm). Floor spots and guests welcome! Entry: £10.00 (£8.00 members, £5.00 under 18s and students) Drinks: From Vine Pub next door (or bring your own). Tea/Coffee available at the Club CONTACT:
ENQUIRIES AND BOOKING/RESERVATIONS:
phone 023 9263 2719 or email: folkclubhambledon@hotmail.co.uk Website: https://www.hambledonfolkclub.com